Ok, my attempt at a second tutorial. Let's hope it's clear and makes sense. I'm writing this on little sleep, so bear with me. :) This is for the cover only, I'll do another tutorial on the rice packs when I make them.
First, you'll need:
2 15"x14" pieces of fleece or other soft material
1 15"x8" piece of fleece or other soft material
17" of bias tape, matching or contrasting
(Please ignore the mess that is my craft table. I'm in the middle of a lot of Christmas gifts.)
First, pin the bias tape on the long side of the 15"x8" piece of material.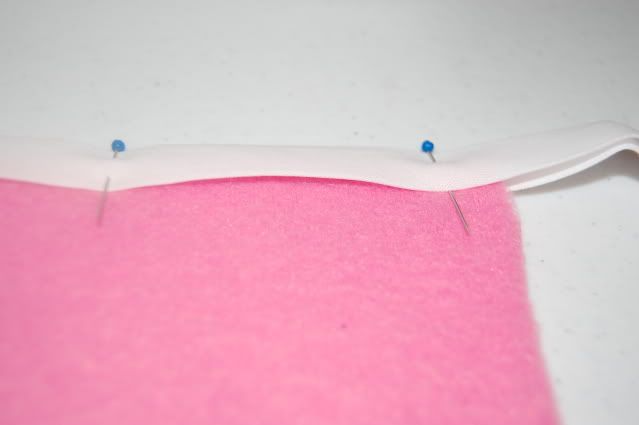 Zig zag stitch along the edge, making sure to catch both sides of the bias tape.
Set aside, and grab one of the 15"x14" pieces. Pin up a hem of 1" along one of the longer sides. Sew using straight or zig-zag. You don't have to add a hem here if using fleece or another material that won't fray. I just do, because these were gifts.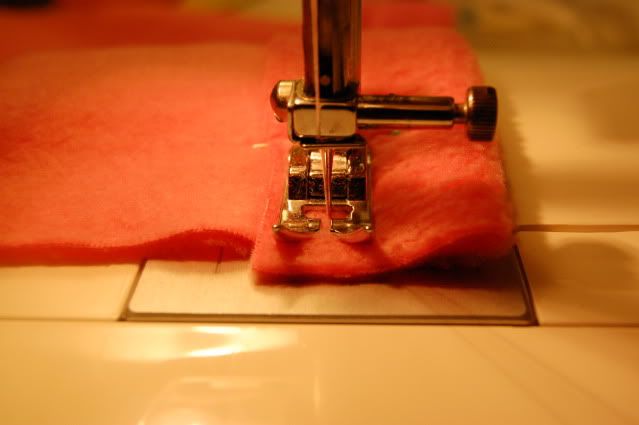 Do the same for the other piece.
Next, stack the layers in this order:
15x14 piece right side up
15x8 piece right side down
15x14 piece right side down
Line up the hems and stitch around the 2 sides, and top using a 1/2" seam allowance or larger. I used approximately an inch on this one. You can also serge the edges if you have one. I do, but for this tutorial's sake, I didn't use it.
Then, trim close to the stitching, and clip your corners.
Turn right side out. It should now look something like this:
Fold in half lengthwise, and mark the center. Set machine to straight stitch, and sew through all layer down the middle. You'll create two pockets for the rice packs.
Finished:
Hope you can follow that easily enough, and if not, feel free to ask any questions! You can also make them different sizes, depending on how big/small the person's feet is.
Also, this is my own design so please just give credit where credit is due. That is all. :)